(Time estimate: 75-90 minutes)
Your job today is to draft away. You can either continue the shitty first draft from the other day or start a new shitty first draft. Don't put pressure on yourself to finish anything today or to make some kind of spectacular breakthrough; just show up to the page and work. As Isak Dinesen said, "Write a little every day, without hope, without despair."
Prep:

You've learned a lot about your own creative process in the last eight days—what works and what doesn't, what helps and what hinders. Take ten minutes and draft a set of "Rules & Reminders." Think of these as instructions to yourself about how to sustain a writing practice. Think of these as a living document that will evolve as you evolve.
To give you a model (and to show you that I practice what I preach), I'll post my latest version of "Rules & Reminders." Every time I get a new notebook, I re-draft my reminders on the back page.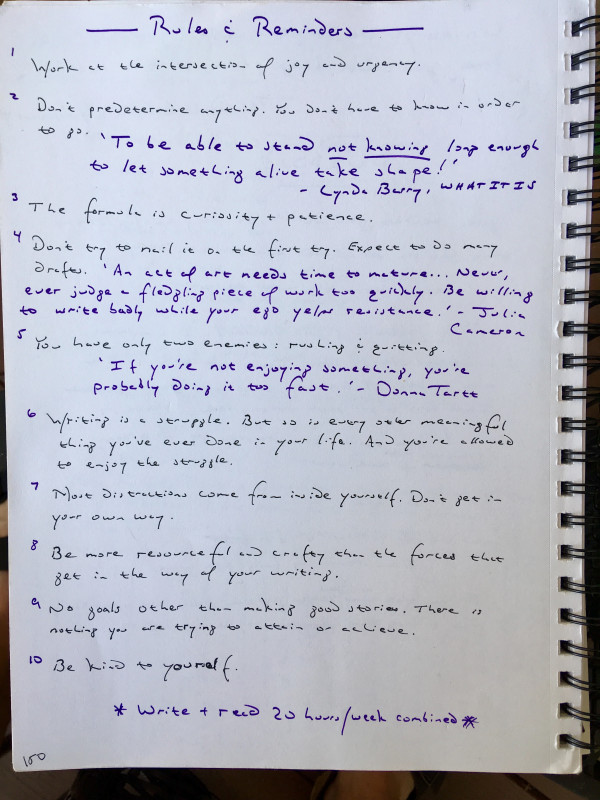 Create:
Set your timer for five minutes longer than yesterday's work session. Draft away.
Reflect:
Was today's session easy or hard (and what made it feel that way)?
Think about how you approach writing now; think about your relationship with writing. How is it different than it was nine days ago?
Put an X through day eleven and log your time.